A word from the Chairman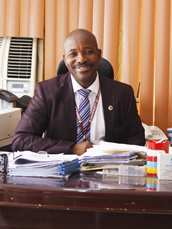 The Institute of Maritime Studies (IMS) was established in 2013 by the University of Lagos in conjunction with the Nigerian Maritime Administration  and  Safety Agency (NIMASA) to address the chronic shortage of personnel in the Nigerian maritime industry which has often been filled by  foreigners. The  University of Lagos was established in 1962 by an Act of Parliament, in the then capital city, Lagos, to cater for the needs of the  growing  population,  enlarging market, emerging industries and the Nigerian economy at large. The maritime industry is critical to the nation as it   accounts for the carriage   of over 95% of the exports and imports of the Nigerian trade in crude oil  and non-oil products. Its role in regional   development is enormous,   especially within the coastal communities bordering the Gulf of Guinea. The Institute of Maritime Studies currently runs the following programmes:
  • Postgraduate Diploma in Maritime Communication and Navigation
  • Postgraduate Diploma in Maritime Environmental Studies
  • Postgraduate Diploma in Maritime Administration and Management
 Course facilitators are drawn from the following Faculties of the University of Lagos: Engineering, Law, Science, Social Sciences and Business Administration. Experts from NIMASA, Nigerian Ports Authority (NPA), Nigerian Navy, Association of Master Mariners of Nigeria, Council for the Regulation of Freight Forwarding in Nigeria (CRFFN) and Nigerian Institute for Oceanography and Marine Research (NIOMR) also contribute as course facilitators. Among our resources for training are Ship Bridge Simulators, Global Maritime Distress and Safety System (GMDSS) and Automatic Identification System (AIS). Our students carry out mandatory academic field trips and internship in reputable maritime organisations which include NIMASA, NPA, Apapa Bulk Terminal Limited (ABTL) and African Circle Pollution Management Limited.
The courses offered by IMS, University of Lagos, are a good opportunity for those interested in career switch since the maritime industry offers good, competitive and commensurate salaries with job stability and flexibility. The University of Lagos is poised to contributing her quota towards building the much needed capacity for the Nigerian maritime industry. As you navigate through our web site, you will obtain more information which include the requirements for admission should you be considering joining us. On behalf of the Vice Chancellor of the University of Lagos, Prof. O.T. Ogundipe and the vibrant, talented and dedicated staff of IMS,
I want to welcome you and thank you most affectionately for your interest in IMS.
Prof. Matthew Olusoji Ilori FRSB, FEnv
Chairman, Board of IMS